2019 Biennial Quilt Show: A Stitch in Time
May 4, 2019 @ 3:00 am

-

10:00 am

PDT
Date and Time
Saturday, May 4, 2019- 10AM – 5PM
Sunday, May 5, 2019- 10AM – 4PM
Location
Airtel Plaza Hotel
7277 Valjean Avenue
Van Nuys, CA 91406
Admission Fee
General Admissions is $10.00 for one day and $15.00 for a two day pass.
Buy your tickets on line at https://valleyquiltmakersguild.com/shop
LIVE Auction Saturday Night
There is a LIVE Fiber Arts Auction and Cocktail Party on Saturday Night at 6PM. For more information go to https://www.valleyfiberarts.com
Admission is $25.00 and tickets may be purchased at https://valleyquiltmakersguild.com/shop
Vendors
Events
QUILTING IN THE VALLEY QUILT SHOW
P.O. BOX 3385, GRANADA HILLS, CA 91344, US
Vendors:
KINGDOM SEWING AND VACUUM OF NORTHRIDGE
DRAGON LADY QUILTS
SEWING MACHINE WAREHOUSE
BARON'S SEWING CENTER
HAPPY APRONS FOR YOU
THE QUILT EMPORIUM
CANDY'S QUILTWORKS
STICHIN' BY THE RIVER
MELANIE MADE THIS WOODWORKING
AFRICAN EVERYTHING
PEGBOARD HIGHWAY
HOBBIT HOLE ART
JULIA FIKSE – QUILT APPRAISER
QUILTY PLEASURES
J&S APPAREL
RIBBON BUTTONS WITH DAWN SKLAR
UNICORN FIBER ARTS
VALENTINE FASHIONS
ART QUILTS BY TINA CURRAN
CREATIVE EWE
COPPER CAT APOTHECARY
ALLY ROSE CREATIONS
MARY KAY
LILIANE SAGINIAN – Ice Dying Linens and Custom Photos Albums
JENNIFER SHER ART
SEWING BIRD
DAMSEL IN DEFENSE
LAURE ARNOFF – SCULPTING WITH WOOL
PAMPERED CHEF
ARTE.LAETITIA
SAN FERNANDO VALLEY WOODWORKERS ASSN.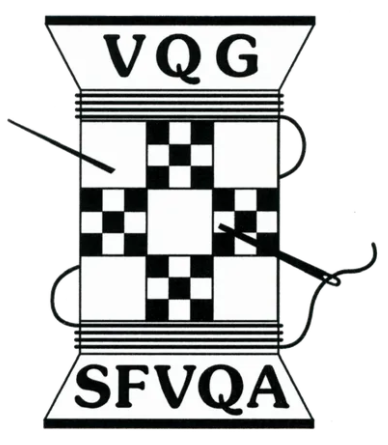 Featured Artist
Betty Vandevort
Betty Roberts Vandevort, born January 27, 1932 in Missouri, was the second of six kids. The family moved from Missouri to California in the mid 1930's and ended up in a small town in the bay area, Albany.
Betty came from a family of quilters. Her mother sent fabric scraps leftover from the clothes she made for the six kids back east to her grandmother in Oklahoma. Her grandmother hand pieced the scraps to make quilt tops and sent them back to California for Betty's mother to quilt.
Betty started making her own quilts in 1987.  She retired from Budweiser in 1995 and quilting became her life.  She joined the SCVQG (Santa Clarita Valley Quilt Guild) in 1995 and was a member about 10 years. She joined a mini group called Sisters in Stitches the same year.  This group is still together meeting every Wednesday at her house.  She also belongs to two other mini groups that meet once or twice a month, the Tuesday Floozies and the Frazier Park the Pine Needles.