The San Fernando Valley Quilt Association (SFVQA) was founded in 1982 as a non-profit organization bringing together individuals interested in quilt making, education and supporting the community in various philanthropic projects.
The activities of the organization are varied but include:
Education – SFVQA has hosted fiber arts educators from across the United States and even internationally.  Programs and workshops are provided to members interested in expanding their knowledge in quilt making.  Other educational activities include Quilt College, Challenge Quilt and Block Party.
Philanthropy – SFVQA has provided support to many organizations that see to the support of those in need in our community.  This work is onpoing and additional details can be found on this page.
Opportunity Quilt – Each year SFVQA creates a quilt for auction as a way of raising funds to support the organization.  The current Opportunity Quilt can be seen on this page. New members get 24 raffle tickets for this quilt!
Quilt Show – SFVQA works with the Valley Quiltmakers Guild every 2 years to host a Quilting in the Valley Show where members display their quilts and other fiber arts.  This very successful show also has vendors, raffles and an auction of quilts for purchase.
Monthly Newsletter – Each month a newsletter is sent to members about upcoming activites in an effort to keep the membership informed.
Annual Retreat – Each year during the last weekend in June, we hold a 4 day retreat (Thursday-Sunday) at Vina de Lestonnac in beautiful Temecula wine country
Our History
The San Fernando Valley Quilt Association was formed in September, 1981 when some of the students in Judy Mathieson's quilt making class at Baron's Fabrics decided to meet to discuss the idea of starting a quilting bee or group where quilters could meet to enjoy friendship and quilts. Twelve ladies attended and made plans to spread the word about a new quilt organization by telling friends, neighbors, and colleagues at work, putting flyers in the local fabric and quilt stores to invite their shoppers to the first meeting in October, 1981 at Shadow Ranch Park. The response was exciting – so many quilters were interested in this idea! Dues were $15.00 a year and many were ready to pay their dues right then! We met at the park for the next few months before membership grew and we moved to St. James Presbyterian Church.
The name San Fernando Valley Quilt Association was chosen in April, 1982 and the first Board was elected with Marlene Peterman serving as president. The logo was designed and voted on a few months later.
Membership grew quickly and by April, 1985 there were 211 members, with 10-15 joining each month. In May, 1991 there were 253 members with 80 quilters on the waiting list. Meeting space was very difficult to find so the decision was made to cap membership at 300 people. This created a 2-5 year waiting list! Many of them attended meetings as guests ($3.00) for years until they could become members.
The first Quilt Faire was held in October, 1982. Quilt frames were made from wood by husbands of members because we didn't have enough money to buy them!
SFVQA and Valley Quiltmakers Guild joined together in 1997 to put on the first "Quilting InThe Valley Quilt Show" which continues bi-annually.
SFVQA continues to be a creative and exciting organization for everyone who loves fabric and quilting friends. Please join us!
Submitted by Jann Lawson, SFVQA Charter member & Past President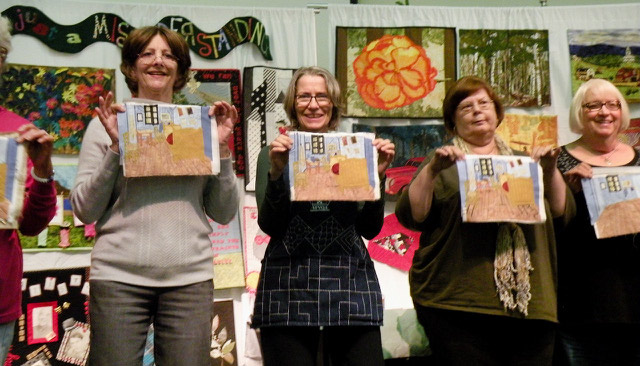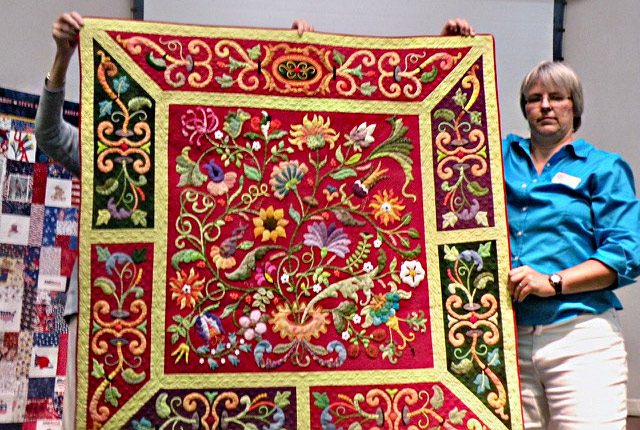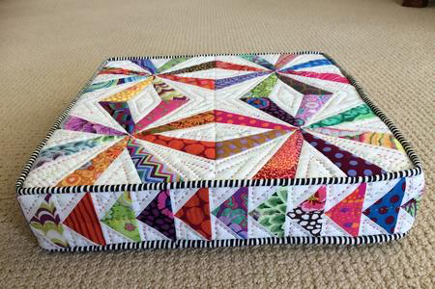 ASAP Reprographics (Northridge)
Baron's Sewing Center
"Boothill" Patches Fabrics
Candy's Quiltworks
Cotton and Chocolate
Healthy Massage
Heat Press Batting Together
Kingdom Sewing and Vacuum Center
Little Black Dog Quilt Studio
Mayhall's Sewing and Vacuum Center
New Moon Textiles
Night Shift Quilting
My Embroidery Service
Patchwork Penguin
Quilt Emporium
Quilters' Studio
Quilt' n' Things
Remember When Scrapbooking