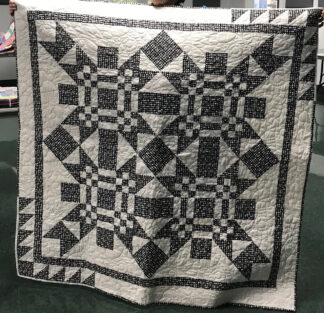 This workshop has been rescheduled and is back on the calendar for November!
This quilt pattern was inspired by part of Arlene Arnold's quilt collection, "The Journey – Kentucky to California 1864."  The quilts help to illustrate the writings of Arlene's Great, Great Grandmother Lucretia Epperson and her journey to California in a covered wagon.
For this quilt, Arlene has revamped the traditional way these blocks would be pieced to eliminate several seams.  This makes for a fast piecing experience and also a great flat top.
You will need 2 yards of dark fabric and 2 yards of light fabric.  The pattern will be provided in class and is included as part of the $40 registration fee.
There is a bit of pre-sewing for this class, if you choose to do so, to make your experience more enjoyable and fulfilling.  Let's get this done in class!
PLEASE NOTE: This is an IN PERSON CLASS