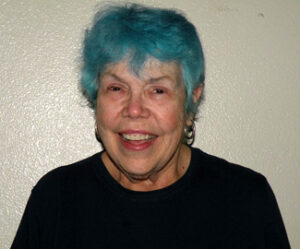 You may know Gigi for her infectious laugh or bubbling personality.  The June meeting will feature our very own Gigi Slezak.  When she was thirteen, Gig's family came from Cuba to settle in Lansing, Michigan.  After marriage, she made her way to California.  Gigi learned to sew at an early age from her mother, who was a talented seamstress who made clothing for the family.
Gigi also learned to design and fit patterns, but making clothing didn't spark a passion for her.  She saw a quilt and decided to try her hand at quilt making.  Around 1980, she made her first quilt from old clothes while she was living in Arizona.  From that point on she was hooked.  Gigi joined the guild in the early nineties.  She considers herself a traditional quilter, and then found paper pieced patterns by Violet Craft.  She made the elephant and was so excited by the pattern, she made it again.
Quilting went from a love to a passion. Gigi is retired from the school district and now looks forward to spending every day in her sewing studio.  She wants to make every animal in the Violet Craft line and then maybe start designing her own.  If there is a retreat in the area, you will find the "Queen of Retreats" there.  Gigi has been attending the Rob Appell retreat for 20 years.  Gigi's plan for the future is to leave all her quilts to her two grandchildren.so that when they turn 18, they can sell the quilts on eBay and make enough money to help them buy a car.  Gigi's advice to quilters is to find what you love and never do it halfway.  Be enthusiastic and jump in 100%!