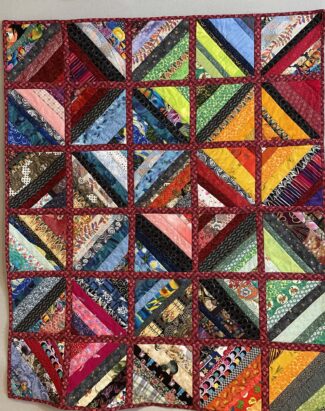 Norene (Patricia) Skiles will be teaching us her Quilt As You Go technique that she learned and fine-tuned as she was looking for ways to finish her quilts without paying a long armer for their wonderful services.  It changed her quilting life.
She started with scrap string pieced blocks (even using scrap batting) and the front sashing technique and then graduated to a method where you add batting to wider sashing strips. Eventually, she figured out that with careful planning, she could quilt smaller pieces of her quilts and then join them together with one of the two techniques she had mastered. If planned and quilted correctly, you could not really tell the top was quilted in smaller sections and then assembled (as in the black and white log cabins below). The bonus is that the backs of her quilts often look as planned as the front and could be reversible quilts with very little extra effort.
She has been able to finish her quilt projects quickly and, and now will be teaching the process to us online via Zoom.
Description: You will use your fabric and batting scraps to make quick Quilt-As-You-Go String quilts. Using larger fabric scraps to make the back, you will be piecing those smaller batting scraps, and then using your smaller fabric scraps to string piece a quilt as you go block. You will need some yardage to cut sashing strips to join your scrap blocks. The class sample is made with 30 blocks that are finished at 8" square. However, you can decide on the size of your blocks. It would be based on the size of the square ruler you already own. Norene (Patricia) ecommends a size between 9.5 and 12.5. Obviously, the size of the ruler determines the size of scraps you can use. You can make a table runner or small wall quilt (total of 4 blocks).