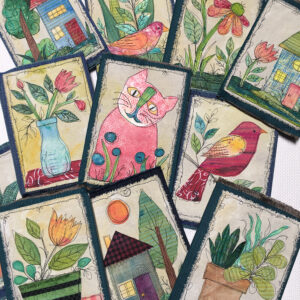 Looking for something different and fun?  Join us Sunday, October 17 and Sunday, October 24, 2021 for a Collage Magic Workshop with Libby Williamson.
Create gorgeous, magical collages with hand-painted papers, canvas, and free-motion stitching using lusciously painted materials (vintage ledger papers, deli sheets, old phone books, and ephemera).  The addition of free-motion stitching brings these collages to life.  They can be sewn into journal covers or finished as art for the wall.
Libby is a fiber artist and teacher. Her unique, mixed-media artworks have been exhibited in museums, galleries and quilt exhibitions worldwide. She teaches mixed-media art quilting and sewing to students of all ages in her studio in Orange, California, at destination retreats, and online.

A kit is required and includes hand-painted papers, canvas fabric, and additional materials.
Workshop registration fee:  $40.00
Required kit fee:  $35.00