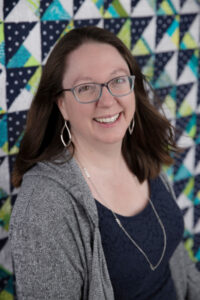 Sarah loves bold color, geometric designs, and inspiring others in their creativity.  As a former math teacher, she enjoys the geometry and the math of quilting, and loves helping others learn and practice a new skill.
She's been passionate about many things in life:  math, dance, graphic design, photography, technology, and teaching to name a few.  In recent years as she started designing quilts, she found that the majority of her passions and experiences connect well to the skills required to design and create quilt patterns.  For her designs and techniques that are less about following a precise pattern, she's developed workshops to share her techniques with others.
Sarah likes options… but she also likes a plan. In his lecture and trunk show, Sarah will discuss how she uses her planning nature to develop rules for herself which drive her Planned Improv quilt design work. She shares work in a series and shows how she iterates on a design. Sarah explains how she develops a formula for her project. Quilters leave with specific ideas of how to develop a set of rules to guide their improv piecing.
Currently open to members only.  Please consider joining us – the San Fernando Valley Quilt Association!