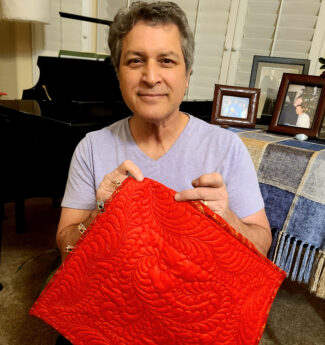 Paul is our in-house speaker for the June meeting.  He will be sharing his quilt journey with a talk titled, "Piecing a Life Together." Paul is honored to be asked to speak to the guild. He was born and raised in the San Fernando Valley, graduated Cleveland High School in 1975, and graduated CSUN Summa cum laude in 2014 with a teaching credential. He credits his mom with a love for crafting, but didn't get his own sewing machine until 23 years ago. Sewing a quilt was a dare to himself, but he soon realized he needed classes to become more proficient. After all, YouTube tutorials didn't exist back then!  Nonetheless, even with full time work, Paul has created a large number of quilts in a number of wide ranging styles and techniques. He has a special fondness for red and white quilts, civil war reproductions, paper piecing, and collecting Featherweights! He looks forward to sharing lessons learned in making quilts and sharing some of his opus from over the years.
As a special fund raiser for the guild, he is raffling one of his white Singer Featherweights that night. Come and win your very own incomparable Singer Featherweight!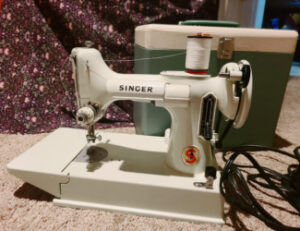 Guests are welcome with a $5 fee for attendance.
Paper Pieced Star quilt by Paul: