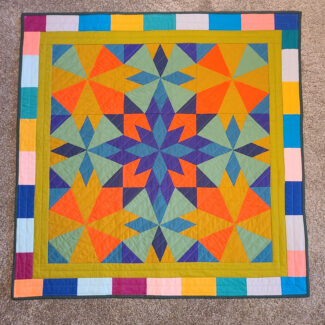 This workshop will focus on making the center part of the Alaska Ruler Quilt (see below for photo of full quilt pattern), consisting of nine 9″ blocks.  With one border, this wall quilt will measure 31″ square when finished.
There are three kinds of blocks in the pattern.  In the workshop, you will focus and complete at least one of each of the three unique blocks that can be utilized in so many different quilt designs.  The pattern utilizes the Creative Grids Alaska Ruler (which will be available for sale at Quilty Pleasures); however, Paul will provide paper templates for those who do not wish to buy one.  This project uses six fat quarters and one more for the 2″ border.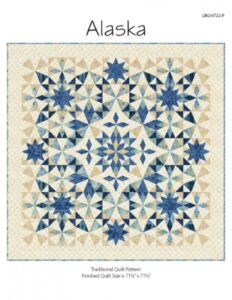 Full quilt pattern – in this workshop you'll be making the center part only.
Alaska Ruler Quilt Workshop