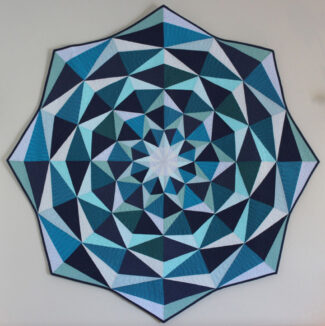 Dora Carey, of Orange Dot Quilts, will be teaching her Arabesque Medallion pattern at our September 2022 workshop.  Please note that this workshop will be held a week AFTER our monthly meeting.
Students will be creating a strikingly beautiful medallion quilt using foundation paper piecing. You can use as few or as many fabrics and colors as you wish. A Color Me page comes with the pattern so you can create your own design and color combination.  You will have the option of making a full circle, or a tree skirt version of this pattern.
Techniques taught in the class: Foundation paper piecing, matching seams, binding inner and outer corners.
Orange Dot Quilts was created in 2016 by Dora Cary, a Romanian-born engineer and designer who moved to the United States in 2001, discovered quilting in 2006, made her first quilt and became an American citizen in 2008, and wrote her first quilt pattern in 2013.