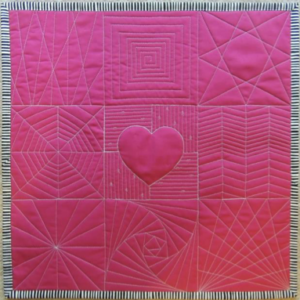 Come join us for the virtual Walking Foot Wow workshop with Mel Beach. Learn how to create beautiful, modern quilted texture with your walking foot. Move beyond basic stitch-in-the-ditch machine quilting and explore modern lines, decorative stitches, spirals, and gentle curves that will add drama and eye-catching texture to your quilt tops!
You will need a walking foot for this workshop.  You will also need to prepare a quilt sandwich (22" by 22") top, bottom and batting pieces cut in advance.  It can be just one piece cut to the measurements requested or 9 different blocks.  It is recommended that students use solid colored fabric such as Kona and choose a thread that is contrasting to your top fabric.  (Ex:  Black thread on white fabric).  We will layer/pin baste the sandwich in class.
The cost of the workshop is $40.00, and no kit is required.   A supply list will be emailed to all students upon payment for the workshop.  If you cannot wait for the supply list and want to know what you will need, check out her website:  https://melbeachquilts.com/
A 45 minute break for lunch will also be part of the schedule.
Open to anyone now.  You don't have to be a member of SFVQA.