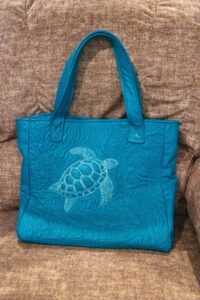 Join us for a virtual workshop with Doug Sobel to create a unique finished quilted Leather Tote Bag.
This workshop will focus on teaching how to quilt and sew on leather to create a finished bag: 12″x14″x4″.
With guidance, you will learn how leather is different than cotton and what different but easy techniques are necessary to use.
We'll begin with how to transfer the quilting design to the leather, then how-to free motion quilt it. You will also learn a multi-layer quilting technique that creates a more contoured effect which helps bring the project to life.  You will  learn  to confidently sew leather to make a tote bag that is both beautiful and functional. Leather is a great material for quilting since it is the new cotton!
The choice of quilting designs will include designs for a beginning free motion quilter (the tulips below are for the beginner; hibiscus is for the beginner/intermediate; turtle design above is an advanced design).  You may also use your own design, but please let Doug review the design to make any suggestions about how to quilt it.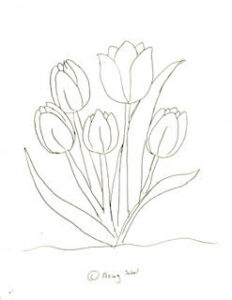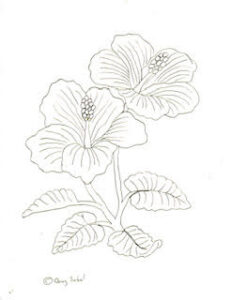 The choices of leather colors are:  Black, Red, Turquoise, Beige, Royal Blue and Medium Brown (see photo below for color samples).
Choices of color will be on a first come, first choice basis. You will need to make a first and second choice. Every effort will be made to accommodate your first choice, but if not, you will get your second choice.
This class requires you to purchase a kit for $40.00.  If you are out of the San Fernando Valley area, there will be a shipping fee to get the kit to you in addition to the Workshop Registration fee and Kit fee.
Most leather is not suitable for quilting so the instructor will be purchasing the leather you will need.  You may contact the instructor directly about your leather color choice.  He can be contacted at:   Doug@quilthero.com or give him a call (818) 999-9808.