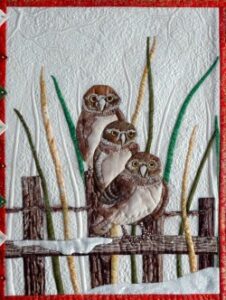 Learn the easy, new Apliquick method of turned edges in a virtual workshop with Kathy McNeil.  Let these adorable little owls teach you how easy applique can be with this new method that is sweeping the applique world using Apliquick tools.  Each bird is created as a unit off block.  You will learn to take small, complex pieces and easily turn them with these tools from Spain.  You will use special interfacing for her template material.  Edges will be swept over the interfacing and left in place, unlike freezer paper that has to be removed.  The cost of the workshop is $40.00.  Pay online or by check to Debi Drake.
The workshop requires the following items:
1)  Apliquick tool kit (if you don't already have it) for $58.00.  The kit includes two stainless steel turning rods, 1 yard of Apliquick interfacing/template and a glue pen.  Order online through Kathy's website: https://www.kathymcneilquilts.com/
2)  Pattern and Fabric kit: $20.  Order this item when you register for the class.  It will be distributed via pick up through the SFVQA.  You can pay online or by check to Debi Drake.
*PLEASE NOTE:  If you already own the Apliquick stainless steel turning rods, but need some of the other supplies required, you may also order them on Kathy's website.